| | |
| --- | --- |
| Los Ositos Child Development Center. | |
The Los Ositos Child Development Center is one of Earthsteward Network's success stories. In 1987 a small group of Earthstewards visited Nicaragua bringing an initial $7,000 donation and helped to build the center.

The center currently:
Serves around 90 children between three and six years old in preschool and a dozen or so infants and toddlers in all-day care
Employs as teachers and caregivers a number of Nicaraguan women with no other means of support.

Periodically, ESN delegations have:

Visited the center, bringing much needed supplies

Provided workshops for the parents, teachers and caregivers.

For more than two decades, a small group of Earthstewards has generously supported the ongoing operation of the center.
In the past, to the tune of approximately only $6,000 annually, the ESN Nicaragua Fund:

Paid the teachers' and staffs' salaries

Provided some food supplementation

Scholarships for a dozen or so of the neediest families

Lunches for the daycare children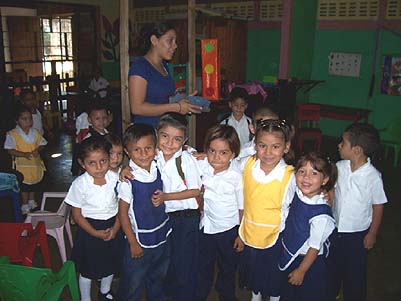 These children and teachers - many of whom live in cardboard shacks - depend upon us for assistance, encouragement and self-improvement. We can't let them down! The center's Director wrote us the following, "Without your help the center would have closed and many children wouldn't have had a place to go, since the state nursery schools are very expensive and the parents don't have the resources to enroll their children in these centers."

Please become a part of the on-going support for this project. Just think about the number of children and young women in whose lives our love, energy and dollars have made a positive difference for more than 25 years!

Your tax-deductible donations may be sent via a check made payable to: "ESN Nicaragua", and mailed to: ESN Nicaragua, c/o Donna Doncaster, 1001 Santa Catalina Way, Santa Rosa, CA 95409. Email: losositosinfo@gmail.com


All monies go directly to the school. Fundraising expenses are an in-kind donation.